Posted by BrittDLD1
[download]
- Play count: 1182
Size: 3,512kb, uploaded 11/8/2007 11:03:20 PM
Genre: Unknown/None Chosen / Playing Style: Clawhammer and Old-Time
I have been playing this for years, I think I learned it originally off of a Fennig's album. (Thanks, Mr Pedersen, if I did.) Borchelt learned it from someone here, on the Hangout, I think. Good tune. I'm playing in open G, capoed on 2, Don is playing his short scale Paramount, tuned aEABE.
---
5 comments on "Campbell's Farewell to Red Gap"

robertlee Says:
Friday, December 28, 2007 @4:58:39 PM
Really a nice tune, and soulfully played. Thanks! Robert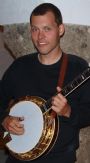 Violanjo Says:
Wednesday, February 11, 2009 @6:44:15 AM
That is pure banjo beauty! This will be part of my collection of great performances.

jimh269b Says:
Friday, April 24, 2009 @3:52:05 PM
just really great ed and don is also i could tell his picking love it

stringbeaner Says:
Thursday, April 26, 2012 @4:48:30 PM
Love the tunes you guys do together!

BrittDLD1 Says:
Thursday, April 26, 2012 @8:48:34 PM
Hi Bill -- Thanks. That means a lot coming from someone with your background.

Don & I really appreciate EVERYONE's comments.

(Apologies... Still having computer problems -- so I'm not so quick to answer these days.)
You must sign into your myHangout account before you can post comments.