Posted by mwc9725e
[download]
- Play count: 2813
Size: 3,143kb, uploaded 1/22/2010 8:24:13 AM
Genre: Old Time / Playing Style: Clawhammer and Old-Time
I re-recorded this, using a different style of playing. I kind of liked it, so decided to replace the old one. Hope you like it, too.
---
12 comments on "Mole In The Ground"

10gauge Says:
Wednesday, February 3, 2010 @8:04:05 AM
I really like the new version. This was pure and came through truelly.

harvey Says:
Sunday, March 21, 2010 @9:24:19 AM
This is great, Bill. Wonderful singing. You really ought to put out a CD.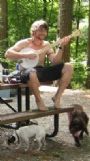 prtidwell Says:
Friday, April 30, 2010 @8:04:20 AM
Wonderful!

Big Doug Nez Says:
Thursday, July 22, 2010 @5:50:53 PM
Just Great!

Don Borchelt Says:
Monday, August 30, 2010 @10:45:05 AM
Well, Bill, as we get older, we just get better and better! This is great, nice quiet, thoughtful feel to it. The voice and banjo are braided together like two long strands of a good woman's hair.

MatthewSYoung Says:
Sunday, May 8, 2011 @11:32:03 PM
Amazing. I love your voice on this and the playing is just great. I'm working up a version of this tune, as well, though you've set the bar pretty high here!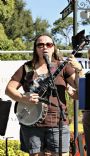 pickinchik Says:
Friday, August 26, 2011 @10:49:31 AM
Bill that was amazing! This is one of my favorites and your version is wonderful!
rickshunter1 Says:
Friday, August 26, 2011 @11:00:45 AM
Sounding great Bill and singing fits the song perfectly

Bill500000 Says:
Friday, August 26, 2011 @11:41:05 AM
Really nice Bill, Great playing and singing!

staronjeff Says:
Friday, August 26, 2011 @2:18:16 PM
i wish i had your voice


David M Says:
Friday, November 8, 2013 @4:25:45 AM
There's a lot of people made a lot of money with only half the atmosphere in their voice as you Bill..! Great recording.
You must sign into your myHangout account before you can post comments.