Posted by Laurence Diehl
[download]
- Play count: 1885
Size: 1,818kb, uploaded 9/22/2008 8:28:11 AM
Genre: Traditional / Playing Style: Bluegrass (Scruggs)
This is Alan Munde's version of the tune - close as I get anyway!
---
12 comments on "Durang's Hornpipe"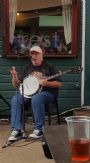 joemac Says:
Monday, September 22, 2008 @1:51:25 PM
Flawless playing once again Laurence. Sounds difficult but you nailed it, congrats...Joe

robin jones Says:
Monday, September 22, 2008 @4:06:38 PM
After all these years Banjo Sandwich is still my favorite banjo album. Fine picking of fine version of fine tune. Cool!

John Kuhn Says:
Monday, September 22, 2008 @8:37:03 PM
Hey Man ,REAL NICE!.Bouncy, making it very tasty !.Perfect timing! Enjoyed VERY MUCH.I never wanted to learn that one till NOW..LOL.Thanks for posting .John

NMD Says:
Tuesday, September 23, 2008 @10:07:12 PM
Five stars from me.
As usual, tasteful, perfect picking, Laurence.

Dan Drabek Says:
Thursday, September 25, 2008 @9:16:16 PM
Nicely done. Interesting variations. DD

Don Borchelt Says:
Sunday, September 28, 2008 @5:18:25 PM
Very well done.

BrittDLD1 Says:
Friday, October 24, 2008 @7:56:55 PM
A true ODE/Baldwin player -- who knows how to get superb tone from that old "tin can". It sounds wonderful. (And you're not too bad either... ;-)

John M. Says:
Friday, December 26, 2008 @1:39:17 PM
Very nice piece very well played.

JanetB Says:
Wednesday, September 3, 2014 @4:50:38 PM
Alan Munde to bluegrass is what Adam Hurt is to old-time, in my humble opinion. Laurence, you always play an impressive and delightful take on whatever you do. Thanks for including this in the old-time TOTW discussion.

SCclawman Says:
Thursday, September 4, 2014 @8:12:35 AM
fantastic!!

rickhayes Says:
Thursday, September 4, 2014 @8:54:22 AM
Excellent playing Laurence.
You must sign into your myHangout account before you can post comments.