Written/Posted by Laurence Diehl
[download]
- Play count: 1255
Size: 4,452kb, uploaded 3/27/2008 1:16:45 PM
Genre: Old Time / Playing Style: Clawhammer and Old-Time
© Laurence Diehl 2007
From my CD "Sound Tracks" Roger Ferguson on fiddle

---
12 comments on "Yarrow Point\The Rector"

salvatone Says:
Friday, March 28, 2008 @12:01:28 PM
Great stuff. I thought you were frailing at the beginning. Then the triplets, very cool. NIce job Laurence.
Laurence Diehl Says:
Friday, March 28, 2008 @2:17:48 PM
Thanks Sal - I WAS frailing at the beginning, then I got my picks on (the magic of recording studios)

ELWOOD Says:
Monday, March 31, 2008 @11:46:00 AM
A fine way to start my morning, like the mix and the Irish accent, works for me.

10gauge Says:
Monday, March 31, 2008 @12:43:23 PM
What a great feel to this song. Makes me sure there are lepricons in Kentucky. Props to the fiddler too.
Laurence Diehl Says:
Monday, March 31, 2008 @1:53:34 PM
Thanks 10gauge - yeah, the feel is the thing and I didn't have much control over that. The tune will go where it wants to go in the end.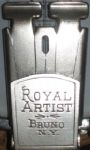 RB-1 Says:
Tuesday, July 22, 2008 @11:03:35 AM
Be-au-ti-ful!

BrittDLD1 Says:
Friday, October 24, 2008 @8:30:59 PM
Superb! Really clean clawhammer at the beginning.

fergaloh Says:
Tuesday, January 20, 2009 @5:20:29 AM
This goes for all recordings. superb. Makes me wish i played 5 string

banjohans Says:
Monday, November 30, 2009 @7:25:40 PM
COOL SONG! Smartly done, had to listen twice.

Paul Roberts Says:
Wednesday, February 10, 2010 @11:35:27 AM
I want some more.

thombanjo Says:
Thursday, September 30, 2010 @1:30:33 PM
Wow...you should get together with Tom Hanway...you guys would kill in a live show ! I just love this tune . Great melody
You must sign into your myHangout account before you can post comments.