Posted by RedZinger
[download]
- Play count: 1619
Size: 2,642kb, uploaded 1/11/2008 6:34:55 PM
Genre: Unknown/None Chosen / Playing Style: Clawhammer and Old-Time
Here's another on my Ramsey fretless Student. It's in eEEG#B. I recorded it while looking out the window at way too much snow in Eastern Washington. I think I play it crooked, but I don't care. I learned this from Bob Carlin's first album Old Time Fiddle Tunes for CH Banjo
---
7 comments on "Chilly Winds (fretless)"

Don Borchelt Says:
Saturday, January 12, 2008 @9:38:33 PM
This is wonderful. Nice and clean, great fretless slides. I love that low, octave drone the tuning gives you. Well done.


mattlyon Says:
Saturday, February 2, 2008 @12:49:50 PM
Nice piece, well played... I need to learn it! It sounds like a tune that would be a good match for a deep tuned gourd banjo.

Celeste Says:
Friday, April 18, 2008 @3:16:42 PM
Really nice! Love the banjo. Love the singing too.

LyleK Says:
Thursday, June 5, 2008 @5:46:10 AM
Way cool! (chilly, even).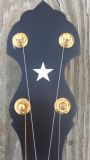 RWJonesy Says:
Sunday, August 3, 2008 @3:39:37 PM
I love your playing Rob. Love this version too...Thank You !

Bisbonian Says:
Tuesday, March 9, 2010 @3:21:13 PM
Love this version...especially the great slides.
You must sign into your myHangout account before you can post comments.