Posted by salvatone
[download]
- Play count: 2234
Size: 1,269kb, uploaded 12/17/2007 12:43:42 PM
Genre: Unknown/None Chosen / Playing Style: Bluegrass (Scruggs)
A little holiday cheer in the key of F on my Nechville Classic in open G. Joe Pass plays it in this key.
---

Joanchek Says:
Monday, December 17, 2007 @8:34:51 PM
I love triplets! Thanks, Sal, cheered me right up--enough to wrap a few gifts :D

Rick Woods Says:
Tuesday, December 18, 2007 @12:06:26 AM
Great job on a great tune. Now I will have it stuck in my head all day. Thanks for making our Christmas' brighter.

thilo-w Says:
Tuesday, December 18, 2007 @2:51:26 PM
WONDERFUL!

Matthew the Kid Says:
Monday, December 24, 2007 @8:10:35 AM
Nice song savatone,but I thing w have had enough snow.

Don Borchelt Says:
Friday, January 11, 2008 @6:07:57 PM
Whoa, awesome picking, Salvatore. You definitely own the key of F, nicely done.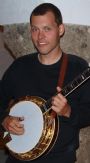 Violanjo Says:
Thursday, April 24, 2008 @5:44:46 AM
Jazzy playing. I like it.

Rob Bourassa Says:
Thursday, November 13, 2008 @1:07:47 PM
Salvatore, Great arrangement. Very well done. Rob Bourassa

Johnboy109 Says:
Saturday, December 20, 2008 @10:39:23 AM
Makes Eddie Peabody sound like an amateur.

Ozarkian DL Says:
Wednesday, February 25, 2009 @5:19:53 PM
A delightful ditty in-deed. Minds me o Christmas.

John Kuhn Says:
Sunday, December 6, 2009 @8:53:11 AM
Really like the chord config in this. All those 1/2 steps with both single notation and pinch voicing depiction really made for a well rounded arr. Very tasty!!!

NMD Says:
Sunday, December 18, 2011 @7:17:11 AM
Brilliant! I'll be humming this all day now.
You must sign into your myHangout account before you can post comments.