Posted by zac987
[download]
- Play count: 1253
Size: 1,254kb, uploaded 9/19/2014 12:34:06 PM
Genre: Old Time / Playing Style: Clawhammer and Old-Time
Inspired by the playing of Pete Steel and Pete Seeger. 3-finger. I messed up at the end, but I rolled with it.
---
9 comments on "Coal Creek March"

Don Borchelt Says:
Monday, September 22, 2014 @11:55:08 AM
Zach, this is a great homage to Steele and the other early three finger pickers. For a kick, look up Marion Underwood's 1927 version on YouTube, complete with head drumming.

Chadbanjo Says:
Monday, September 22, 2014 @4:49:20 PM
Good stuff man, nothing wrong with a mess up when it sounds.

Joe the banjo guy Says:
Tuesday, September 23, 2014 @8:20:42 AM
Cool! I have a Seeger record where he plays this. Such a pretty little song.

chip arnold Says:
Wednesday, October 15, 2014 @12:54:45 PM
Beautifully played! Nice to hear the OT 3-finger picking. I have it on my BHO music page in 2-finger style.

gailg64 Says:
Tuesday, October 21, 2014 @2:43:39 PM
Really nice clear picking Zac, and the brushes give it the sound of one of the East TN/Plateau picking styles.

gailg64 Says:
Tuesday, October 21, 2014 @2:44:40 PM
Just saw you're in Tally. For much of my life I was a Gator.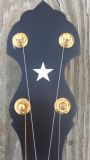 RWJonesy Says:
Monday, December 15, 2014 @11:13:22 AM
I love your version of this tune. Sounds fantastic to me. I need to learn this one. What is the tuning?


DiddyBum Says:
Wednesday, April 8, 2015 @8:55:40 AM
Love it. I've been meaning to learn this one and your rendition inspires me further.
You must sign into your myHangout account before you can post comments.