Posted by schwimbo, written by Joseph Kosma
[download]
- Play count: 839
Size: 7,873kb, uploaded 6/20/2012 10:19:49 PM
Genre: Jazz / Playing Style: Other
I just improvised a banjo version of the jazz standard (without fingerpicks to get a mellower sound), and then added electric bass afterwards. It is kind of sloppy, and I mainly don't play jazz on the banjo, but thought I would put it out there anyway. I did record it without click track or any ProTools "fixing" (so maybe that could be a consideration against it being judged too harshly for the sloppyness factor). For some really great jazz banjo (in a traditional bop oriented style), listen to Tom Slavicek. His tunes were posted at Andrew Conde's hangout page, but since that page is non-functioning at present, I've re-posted them on my music page with Tom's permission.
---

John Kuhn Says:
Thursday, June 21, 2012 @6:25:58 AM
OH! you played the single banjo track first!(shoulda read the fine print..LOL). . I think this kinda thing this stuff comes from what your instantly feeling so yeah, just improvin solo with no comp, I thought ya did a fine job!..Liked your choice of chord voicings for sure. Cool bassline fits well.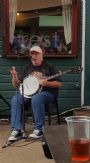 joemac Says:
Thursday, June 21, 2012 @6:29:53 AM
Well Done!! no easy piece (as i found out!!!) well voiced indeed.

rickhayes Says:
Thursday, June 21, 2012 @2:09:44 PM
Hope someday to be able to lower my sloppiness to that level. As far as improv, no chance. Fine work.

The end Says:
Monday, August 29, 2016 @10:39:56 AM
Very nice,interesting laid back version.
You must sign into your myHangout account before you can post comments.