Posted by jfb
[download]
- Play count: 1816
Size: 2,042kb, uploaded 2/27/2007 9:13:06 PM
Genre: Unknown/None Chosen / Playing Style: Bluegrass (Scruggs)
Thats probably streaching in a bit,ha..to call it Scruggs style..but I got an email saying to update it and I did...
---
12 comments on "Huber compairison"
5stringrookie Says:
Wednesday, February 28, 2007 @10:01:31 AM
Great job. Nice and smooth.
I liked the first banjo you played the best. Just my opinion. ( Which one is the first one? lol.. )

jfb Says:
Wednesday, February 28, 2007 @6:16:24 PM
Thanks for the kind words..the first banjo is the Huber..second is my old flathead Gibson.. lots of new banjos sound very good these days..very close to the old ones..and the Huber is certainly one of the best new ones..I first posted this in Feb 06, when I first got the Huber..and just thought I would leave it here for those who may have any interest..Thanks again

NMD Says:
Thursday, March 1, 2007 @8:45:08 PM
Wow! That was a striking difference. I liked the Huber better (and I'm a Gibson fan). Nice playing too!
Nestor

flange5st Says:
Sunday, March 4, 2007 @5:01:35 PM
. the B-string on the -75 "sings" with more brilliance than the Huber, but both banjos sound great.........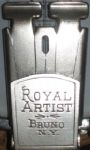 RB-1 Says:
Wednesday, June 27, 2007 @6:08:44 AM
To me -handsdown- the second one. If you don't want it anymore, send it to me... ;-) I'd probably set it up for an even darker tone, but that would be about it.
Congratulations, you've got something special there....
Bruno

RB5 Says:
Thursday, September 6, 2007 @11:15:38 PM
I like the first banjo(Huber). It seems to have alot of power and tone. Did you pick one softer than the other and at the same distance from the mic?Good job on the picking...
jdluke Says:
Friday, September 7, 2007 @3:55:57 AM
First thing you are a very good picker, to me these banjos are very closed in tone but the Huber seem more loud.
Ciao Luca.


jfb Says:
Sunday, September 16, 2007 @9:39:06 AM
Thanks for the link Robert, and thanks to all for the nice comments above...Miss Cia certainly has learned to coax the tone out of that Huber hasn't she..

carteru93 Says:
Friday, September 28, 2007 @5:26:39 PM
The Gibson has more pop and note separation to me. Also a bit darker tone. Both sound great.

flange5st Says:
Tuesday, August 12, 2008 @5:40:10 PM
....congrats on 1000 plays!!!!!........peace

jfb Says:
Tuesday, August 19, 2008 @6:55:23 PM
Thanks Danny..youve had a few of those yourself for sure..happy picking
You must sign into your myHangout account before you can post comments.