Posted by Banjophobic, written by Vince Guarldi
[download]
- Play count: 1706
Size: 7,442kb, uploaded 12/20/2010 10:46:08 PM
Genre: Jazz / Playing Style: Other
Heres my 6 banjo version. I matched the tempo and the arrangement as closely as I could. But my jazzy solo in the middle is my own..good or bad,haha. I snuck in a hook riff from a 007 movie for laughs. This has rhythm banjo, two brushed banjos,banjo ornaments,banjo solo and bass banjo. I hope you like it.
---
8 comments on "Christmas Time Is Here"

catching2nd Says:
Monday, December 20, 2010 @11:55:50 PM
Sounds amazing, John. Great job.

youdye Says:
Tuesday, December 21, 2010 @5:27:33 AM
that was excellent John!

BanjoFlyboy Says:
Tuesday, December 21, 2010 @6:14:01 AM
Phobic, That was awesome! It has been my experience that someone as good as you are as a musician, don't make very good instructors (lack of patience I guess); however, you are exceptional at both. The same can be said for aviation; the gifted pilots don't always make the best instructors.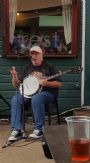 joemac Says:
Tuesday, December 21, 2010 @10:56:57 AM
Oh Yeah man............cool

taddr Says:
Wednesday, April 13, 2011 @12:53:26 PM
Really delicate & gorgeous. Love the stereo treatment.

pickNgrin Says:
Thursday, September 29, 2011 @8:24:03 PM
I love it.

John Kuhn Says:
Monday, December 12, 2011 @10:46:50 AM
Yeah, this really makes it feel like "that time of yr" again. The voicings and improv work on this are 2nd to none!

LNEU Says:
Wednesday, December 16, 2015 @2:16:26 PM
I'd like this twice if I could!
You must sign into your myHangout account before you can post comments.