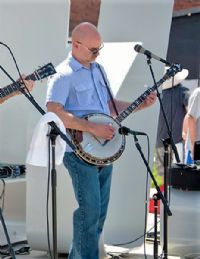 Teaches Lessons: Online, In Person
Styles: Bluegrass (Scruggs) , Other
Levels: Beginner, Intermediate, Advanced
Teacher Since: 1990
Pricing: $35.00 per hour
Listing Created: 11/14/2011
Listing Updated: 5/28/2014
More About Me
I've been playing banjo from the age of 10 yeas old. Growing up in western North Carolina, I learned to play by going to countless jams,playing for dances and listening to great banjo playing on records and going to festivals and shows. My 'career' as a banjo player started out as part time player in local groups at age 16. Eventually the opportunity came to tour and play full time around age 21. Time has flown by and this year marks my 26th year playing professionally. Some of the Bands I've played with include Wyatt Rice and Santa Cruz, Johnny and Jeanette Williams Band, Hershel Sizemore, Piedmont Grass, The Shady Grove Band, None Of The Above, Rain Check, The Severts,Atomic Roots, Rich In Tradition, Last Resort, Arnie Solomon Band, Junior Cassidy And The SunDowners, and many others.

My background in teaching began through music stores and eventually transitioned over to lessons in my own studio. About 10 years ago I discovered the internet and the ability to use it for teaching. As far as I know, I was one of the first teachers to use this technology for online lessons. Not that it matters, but hey, a small' horn toot' can be fun. This new technology really has revolutionized the way folks learn to play and it makes the world a smaller and closer community.

Those internet lessons began as audio only,back in late 1998, using Yahoo and Paltalk. The ability to host videos came available to me around 2006 with the introduction to Skype, the free online video chat program. The quality has improved with each new update to Skype and I am now able to broadcast in HD and use excellent condenser mics. With good connections and computers, the student and I have an almost 'being there' experience.

Using the internet means I've had a wide range of student locations. Some of these include:Germany, Ireland,Scotland,Sweden,Iceland,The Bahamas, Ireland,Scotland,England, Mexico, Brazil,South Africa,Australia, Canada, Thailand, Hawaii and most every state in the U.S. The internet really has made it possible for players in any country to connect and learn.

Ive also been fortunate to have been among the first teachers to do online 'chat room workshops', as a group setting. These were conducted through Jim Pankey's "Banjo Lounge" group/site, and the concept has since moved to this site. Kudos to Jim for his idea. Ive now conducted a few of them here on the Hangout and it has grown to include nationally known teachers.

My method of teaching has evolved through the years and is always an ongoing process to try and be a better teacher. Using tabs of solos, a pat on the back and a 'see you next week' is not the method I use. My goal is to help players develop ear skills and to train their ears and mind to absorb the feel and sound of Bluegrass banjo. Listening to the classic players and great players of today is of prime importance in my mission statement, as a teacher.

I want my students to learn some basic theory, as it applies to playing banjo, learn some key, fundamental Scruggs concepts and ideas and to be able to play backup, as well as solos.
My method for rank beginners is centered on learning Back-up, so that they can begin to join jams or play along with some easy bluegrass songs as soon as possible. Learning solos is actually the easy part of playing this instrument, as it only involves memorizing note patterns. But learning backup required ear skills,thinking about where,when and what to play, and adapting to your musical environment.
My goal is to make a well rounded, knowledgeable player who does not just mimic without grasping what is happening, or who regurgitates tab but never really 'gets it'
Tab for me, is best left for players who have moved beyond the basics and who have developed some decent ear training. I do not use tabs for rank beginners, but do offer it to those who I feel understand its proper use as a learning aid.

Above all, I want the student to learn and understand, but also have fun!
Lastly, but most important of all, I need to thank Earl Scruggs for everything Ive ever done with my banjo. All the things mentioned here on this page, all the accomplishments, would not exist without Earl blazing the pathway and providing the genius. Thank you Earl!

My rates are 35 per hour. I do not require paying large 'blocks' of lessons, or that students take lessons every week. I leave those decisions to the student. Doing anything else feels very much like being held hostage. You decide the frequency of the lessons.

You can contact me through my Homepage here, my website www.note-ablerepair.com or by phone: 336-483-7838. Thank you very much and remember music is a gift from God.
Comments
John is always willing to take the time to help, just look at all the time he has spent helping others He is one class act! - DGEBanjo
John genuinely wants to help people not only play the banjo but to understand it. What little I do know about playing backup is solely because if him. He has no ego and wants you to succeed. Anyone would be lucky to benefit from his skill and knowledge. - picKen
Thirty bucks an hour for banjo lessons face to face with John Boulding is a steal!! This is a bargain people! - BanjoFlyboy
John is a great, patient teacher who has helped immensely in my banjo playing journey. - Yard Onion
John has been a great friend both here in the virtual world and the real world and I can tell ya his passion for teaching/helping exists no matter where he's "Got Banjo". His LOTW videos are only in part testament to this for Ive witness him helping many on the BHO Chat including myself with Little Rock Getaway and other cool swing tunes. This is no "Cookie Cutter" instructor like so many Ive seen over the yrs.John will get inside that brain of yours and find whats makin you tick, then base your journey on whats gonna work for you! Yeah, Im proud to call him friend and highly recommend his instruction! - John Kuhn
John's deep understanding of traditional bluegrass banjo playing is well known here at the hangout. His lick of the week contributions have been invaluable for players at all levels. He is a generous and caring teacher who sincerely cares about helping all his students. If you are interested in bluegrass banjo, I would highly recommend John as a teacher - Couchie
John's love for the banjo and his skills are truely understood by all here on the Hangout. His contributions do not go unnoticed and are greatly appreciated and I have only had positive experiences and great fun when exposed to John and his playing skills. One of the greats here for sure. John has earned respect in the banjo world and rightly so. - dgill
I started playing banjo 6 months ago and recently found John on the Hangout. I have learned more from him in 2 hours than I have from anywhere else in the last 6 months! His teaching method is outstanding as he puts everything in a context that is easy to understand. He is already filling my banjo "toolbox" up with so many tools that I can use at my weekly jam that I just can't wait to get there next week and start trying them out! If you want to learn to truly play the banjo this is the guy for you! - bmorgan42175
i would whole heartheardly agree with b morgan very similar circumstances englishman working finland started to learn 4 months ago via dvd rolls,chords c d7 e and g etc
was struggling lacked direction or someone showing the way then i contacted john and i can now use 4 finger chords very slowly go up and down the neck with whatever chord i am using you want proof i learned that in just over 3 weeks i just wish i had more time to devote to practicing you want a good teacher look no further you can only gain from johns tutelage
regards
mark darlington - darlo
If you read John's 'More about me' section, you will know what to expect. He teaches exactly as he describes here. You will come away with a well-rounded foundation and the technical tools to continue your banjo journey.

He provides you a framework which will allow you to continue to learn and place into context what you run into long after your lessons are complete. - bluejazz
There are many good teachers but in my opinion john is the best. His skills are great and his ability to teach makes for the best combination available. - kprince
You must sign into your myHangout account before you can post comments.