Posted by Frailblazer
[download]
- Play count: 3191
Size: 2,091kb, uploaded 4/5/2010 11:30:34 AM
Genre: Old Time / Playing Style: Clawhammer and Old-Time
Ric Hollander - Played on my Romero 12" setup with Nylgut strings. Tuning: fCFCD Arrangement and performance copyright 2010 Ric Hollander - All Rights Reserved
---

ELWOOD Says:
Monday, April 5, 2010 @11:49:43 AM
Ric ,that,s great playin enjoyed it all the bass string is spectacular rythum is rock solid...5 Stars from me

Dock Jekel Says:
Monday, April 5, 2010 @1:06:53 PM
Ditto.

Marc Nerenberg Says:
Monday, April 5, 2010 @4:31:19 PM
Man, is that playing ever good...oh yeah, nice banjo too!

Tom Berghan Says:
Tuesday, April 6, 2010 @10:42:39 PM
This is a REALLY fine performance Ric!
I love the ornamanets and the string slaps. Great melodic clawhammer.
Best Wishes, Tom

f#dead Says:
Wednesday, April 7, 2010 @7:28:37 PM
Nicely done, great rhythm and clean. Ya gotta love that Romero. thnx for posting.
Frailblazer Says:
Thursday, April 8, 2010 @2:09:36 PM
Thanks everyone! I've uploaded the tab for my arrangement if anyone's interesting in playing it. Here's the link:

http://www.hangoutstorage.com/banjohangout.org/storage/tabs/tab-last-chance-13181-40013842010.pdf

- Ric

Viper Says:
Friday, April 9, 2010 @9:32:46 AM
This sounds great and thanks for uploading your tab. Cheers!

-Brad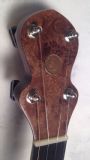 stevel Says:
Monday, April 12, 2010 @9:05:55 PM
fantastic! but pardon my ignorance here... but what do you mean by "snap" on the tab?

thx
steve

BrittDLD1 Says:
Wednesday, April 14, 2010 @8:18:34 PM
Really nice! Great tone and feel.

Debbielee Says:
Thursday, July 22, 2010 @6:48:44 AM
When I grow up...I wanna play like you...nice job!

rubicon Says:
Wednesday, January 26, 2011 @10:08:55 PM
great sound and playing
Frailblazer Says:
Wednesday, February 23, 2011 @4:55:54 AM
Thank you all! :-)
You must sign into your myHangout account before you can post comments.