Posted by ZEPP
[download]
- Play count: 1354
Size: 512kb, uploaded 12/15/2006 3:03:04 PM
Genre: Unknown/None Chosen / Playing Style: Clawhammer and Old-Time
3/4 to 4/4 switch. Tuned aDGCD, and I played the tune in Bm on my Ramsey Woody prototype. I think. January 2004.
---

ajbadger Says:
Tuesday, January 2, 2007 @9:19:44 PM
Sound great! Thank you for sharing this with us.

Yopparai Says:
Wednesday, January 10, 2007 @12:42:47 PM
Man. Its hard to lament my mistreatment at the hands of Lady Greensleeves listening to that! Love what you did with that!

kcjc69 Says:
Saturday, February 10, 2007 @3:14:03 PM
My wifes favorite. One of these days I'll play it this well.

jroberson1991 Says:
Saturday, November 10, 2007 @12:09:05 PM
one of my favorites! you nailed it.

Lorix Says:
Thursday, April 24, 2008 @6:02:50 PM
Thanks for that. I used to play that tune on guitar. I need to learn to play it on the banjo. :-)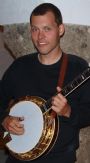 Violanjo Says:
Saturday, June 27, 2009 @5:14:41 AM
Nice version of a geat tune. I like the 3/4 to 4/4 switch..................manuel
You must sign into your myHangout account before you can post comments.