Posted by robmac07
[download]
- Play count: 807
Size: 1,098kb, uploaded 10/28/2008 9:28:13 PM
Genre: Old Time / Playing Style: Clawhammer and Old-Time
A quick recording attempt of The Flowers of Edinburgh, clawhammer style with backup guitar overdub. Rob: banjo and guitar. Key G. Banjo White Swallow open back.
---
3 comments on "Flowers of Edinburgh"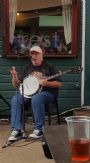 joemac Says:
Wednesday, October 29, 2008 @3:32:33 AM
well played Rob........wonderful banjo tone.Joe

Dancing Queen Says:
Thursday, January 6, 2011 @4:56:08 PM
Dancing Queen says:
Well Rob after all this time I have just heard the lovely tune of Flowers of
Edinburgh, I did so love your version and boy! how I am struggling to play it.
Well there is always hope I guess! Just great. Lesley.

robmac07 Says:
Thursday, January 6, 2011 @5:24:15 PM
It's quite tricky tune to play but a beauty.
Keep at it Lesley. You'll get it. It just takes a bit more work than some. It's got a lot of melody notes - a great fiddle tune.
Rob :)
You must sign into your myHangout account before you can post comments.