Posted by robmac07
[download]
- Play count: 1097
Size: 2,046kb, uploaded 10/21/2008 4:34:39 AM
Genre: Bluegrass / Playing Style: Bluegrass (Scruggs)
Another track from our Adelaide group, The Skillet Lickers Bluegrass Band. Studio recorded in 1970. John Munro mandolin, Brent Miller guitar, Len Cohen bass, Rob McCarthy banjo.
---
3 comments on "Long Journey Home: Vintage Aussie Bluegrass"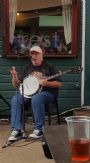 joemac Says:
Tuesday, October 21, 2008 @5:02:03 AM
OH BOY YES!!! thats the stuff Rob, great playing from all, but great banjo, high on the neck backing up and popping. five big ones from me...joe

festusbug Says:
Thursday, February 5, 2009 @7:40:13 PM
Almost 40 years old and it'd stand up to anything done on the Australian bluegrass circuit today! Awesome - as some of the younger ones say!

robmac07 Says:
Thursday, February 5, 2009 @8:16:18 PM
Thanks Fred, but I think the yung uns can stand longer on the stage without falling off it!
You must sign into your myHangout account before you can post comments.