Posted by robmac07
[download]
- Play count: 491
Size: 1,534kb, uploaded 10/18/2008 9:32:26 PM
Genre: Old Time / Playing Style: Clawhammer and Old-Time
The Wombat Reel was something I put together while doodling around on the old open back. It's in honor of my favorite Aussie animal, The Hairy Nosed Wombat and played in clawhammer style. Key C double C tuning.
---
3 comments on "The Wombat Reel"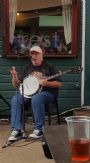 joemac Says:
Sunday, October 19, 2008 @2:22:01 AM
superb playing and a tone to die for, well done mate.

festusbug Says:
Sunday, October 19, 2008 @5:05:18 PM
Well done - Rob - nice to see you postng stuff - and please keep the older stuff from your archives coming too!

tarahall Says:
Wednesday, January 28, 2009 @10:24:43 PM
Fantastic !
You must sign into your myHangout account before you can post comments.