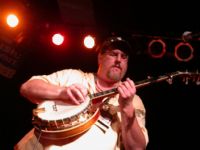 Teaches Lessons: In Person
Styles: Bluegrass (Scruggs) , Other
Levels: Beginner, Intermediate, Advanced
Teacher Since: 1979
Pricing: $20.00 per half hour session
Listing Created: 11/15/2011
Listing Updated: 11/1/2014
More About Me
Currently looking for a music store to teach out of near Avon west of Indy on Saturdays. I teach Scruggs, Melodic, Chromatic, Single string/Reno styles of play. I teach beginner all the way up to advanced methods. I teach bluegrass banjo as well as any other methods played 3 finger style on a 5 string banjo. If your looking to learn I'm looking to teach you. I am patient and do not rush my students but move on when the student is ready to advance. Want an example of my playing? Check out the music files on my hangout page.

Comments
Hi am Rose!
How are you, hope you are fine and in perfect condition of health. I went through your profile and i read it and took interest in it if you don't mind i will like you to write me on this ID (Rosebaby4u@hotmail.com) hope to hear from you soon, and I will be waiting for your mail because i have something VERY important to tell you.
Please reply me with my email address here (Rosebaby4u@hotmail.com)
Lots of love
Rose! - lovetolove98
David, I am looking to learn three finger old-time style on an open back. My inspiration comes from Jason Romero's style. I love clawhammer as well. Is this similar to what you teach? - HoosierDoodles
Hello Mr. Frye:
I am very interested in banjo and is looking forward to learn 3-finger style. I went through your profile and is really looking forward to start a beginner lesson. Here is my email: (rzjiang960603@gmail.com)
hope to hear from you soon.

Best regards,
Jiang - AndyJ
You must sign into your myHangout account before you can post comments.