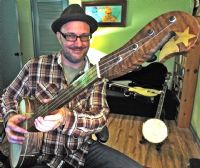 Teaches Lessons: Online, In Person
Styles: Clawhammer and Old-Time
Levels: Beginner, Intermediate, Advanced
Teacher Since: 2001
Pricing: Call 818-324-6123
Listing Created: 11/17/2011
Listing Updated: 10/30/2014
More About Me
I've been teaching traditional old-time banjo and fiddle for 10 years. Passing on the tradition of rhythmic southern picking and bowing is my passion! It's all done by ear. I teach in person and online from my Old-Time Tiki Parlour in Los Angeles.

I was first exposed to playing old-time music through visits, workshops and private lessons with Mike Seeger, Bob Flesher, Mel Durham, Dan Gellert, Bruce Molsky, Clyde Davenport, Joe Thompson, Benton Flippen, Lester McCumbers, Brad Leftwich and Tom Sauber.

The greatest mystery was: How do I sound like Fred Cockerham, Wade Ward, Gaither Carlton, Edden Hammons, etc. Once I started unlocking these mysteries, people started coming to me for lessons. Word of mouth transformed me into a full time old-time music instructor seven days a week! Currently, half of my students are online from around (and outside) the country. Recently I have started hosting an ongoing series of sold-out workshops at the Old-Time Tiki Parlour, including workshops from traveling masters such as Bruce Molsky, Rafe Stefanini, Suzy Thompson and old-time wizard Dan Gellert.

In addition to being a local square dance fiddler/banjoist, I play in the Los Angeles-based old-time jug band Sausage Grinder. I write the Old Time Oracle column for the folk music site Folkworks.org. I teach workshops at many local festivals including the Topanga Banjo and Fiddle Contest, The Los Angeles Old-Time Social, The CTMS Equinox Festival, The Goleta Old-Time Fiddler's Convention, etc. My students have won countless prizes from Los Angeles to Galax!