Posted by FretlessinTexas
[download]
- Play count: 882
Size: 1,854kb, uploaded 9/19/2008 3:21:55 PM
Genre: Old Time / Playing Style: Clawhammer and Old-Time
This song is dedicated to my friends in Alabama, which I will always consider home. Played in G out in the front yard with the poophounds on a no-name 1920s "catalog banjo," the kind most Southerners could afford. Fair warning: I'm singing on this one.
---
6 comments on "Boat's Up the River (Alabamy Bound)"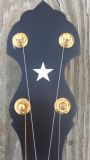 RWJonesy Says:
Friday, September 19, 2008 @4:43:29 PM
Fine job picking and singing. 5 stars !

Rob MacKillop Says:
Saturday, September 20, 2008 @7:59:35 AM
Very nice indeed! Thanks for that.

Yopparai Says:
Sunday, September 21, 2008 @5:03:06 PM
Nicely done! It doesn't get much better than playing in the yard on a jo thats more conviction than finery.
FretlessinTexas Says:
Monday, September 22, 2008 @5:01:36 PM
Well, I must admit that I was wearing overalls at the time. Thanks to you all for your kind comments. I do enjoy playing.

Don Borchelt Says:
Tuesday, September 23, 2008 @4:11:43 PM
It sounds like you're up picking here. Great job, well done. With up picking it is harder to maintain a smooth, chugging rhythm, and you pull it off nicely. I like Yopp's remark about the banjo- "more conviction than finery."

f#dead Says:
Monday, December 7, 2009 @12:39:26 PM
Dean I like this one and being able to sing along is just a pipe dream for me. You done good. thnx for posting.
You must sign into your myHangout account before you can post comments.