Written/Posted by Laurence Diehl
[download]
- Play count: 1384
Size: 2,154kb, uploaded 7/29/2008 8:11:33 AM
Genre: Bluegrass / Playing Style: Bluegrass (Scruggs)
© Laurence Diehl 2008
This is quite a simple little tune. Maybe I like it more for that, I should do simple more often.
---

salvatone Says:
Tuesday, July 29, 2008 @8:41:02 AM
Great tune. Are there measures of 7 in there or is it my imagination?
Sal DeMaio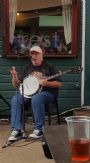 joemac Says:
Tuesday, July 29, 2008 @1:55:40 PM
nice Laurence, very nice.

Rick Woods Says:
Wednesday, July 30, 2008 @12:30:47 PM
Always a pleasure to hear another tune from you and great as always.

BrittDLD1 Says:
Friday, October 24, 2008 @7:43:08 PM
WOW! Strikingly beautiful tone! (And timing.) Simple is hard to do right.
You must sign into your myHangout account before you can post comments.