Written/Posted by Shilohbanjoman
[download]
- Play count: 1111
Size: 4,027kb, uploaded 7/20/2008 1:12:46 PM
Genre: Classical / Playing Style: Classical
The is a piece that I wrote for the banjo with a baroque flavor to it. The guitar is somewhat hard to hear since it is being played by Sibelius music software. I have this version on sibeliusmusic.com in sheet music but have not posted the tabs to it yet. The tableture would be crucial to learning this piece since it has a lot of melodic and single string picking. Thanks for listening, enjoy!
---
4 comments on "Baroque Style Banjo"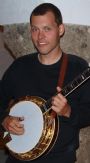 Violanjo Says:
Sunday, July 20, 2008 @3:52:00 PM
Hi Lucas,

Congratulations, that is a very fine work! It demonstrates the wide sound range of the banjo. 5 stars for you!

FiddlerFaddler Says:
Sunday, July 20, 2008 @9:43:49 PM
Hey, if it's baroque, don't fix it. I loved it! Write more! Write more! Keep them coming.

BrittDLD1 Says:
Monday, August 3, 2009 @8:06:27 PM
Lucas...
Man.. you've got great chops in all sorts of musical forms. Wow!
You're going to give Manuel (Violanjo) a run for his money, on some of this Renaissance and classical stuff.
You can help expand the role of banjo in other types of music. (But your Bluegrass chops are already great, too!)
Very Impressive!
Ed Britt

sidewinds Says:
Monday, December 27, 2010 @12:49:12 PM
Love it dude. Please post the tab. Excellent, excellent writing.
You must sign into your myHangout account before you can post comments.