Posted by fbounds
[download]
- Play count: 581
Size: 5,292kb, uploaded 7/20/2008 9:31:39 AM
Genre: Unknown/None Chosen / Playing Style: Bluegrass (Scruggs)
This is a tune that I like a lot. It is a recording from a practice session with the band that I play in (36 Degrees North). The audio was pulled off of the video from a hand held video camera. I added some light compression and here it is.
---
7 comments on "Little Whitewashed Chimney"

zeke_w15 Says:
Sunday, July 20, 2008 @1:52:31 PM
very well played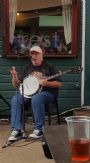 joemac Says:
Sunday, July 20, 2008 @2:28:51 PM
Thats the stuff Frank....thats just great mate.....well done guys!!

fbounds Says:
Wednesday, July 23, 2008 @5:58:52 AM
Thanks! We have a lot of fun playing.
Laurence Diehl Says:
Monday, August 4, 2008 @3:28:04 PM
Yeah, that has a nice feel to it, that happy bounce. Always associate that song with Bill Clifton. I did some playing with Bill, back in the day...

fbounds Says:
Monday, August 4, 2008 @6:52:48 PM
I am pretty sure Bill Clifton wrote it. It's a really great tune and just plain fun to play.

garfield55 Says:
Thursday, December 25, 2008 @5:23:50 PM
Great job! That song reminds of yesteryear when I was first introduced to live bluegrass music in my pre-teens. You and the band did the song justice.

fbounds Says:
Monday, April 13, 2009 @11:59:12 AM
Thanks banjoduster!
You must sign into your myHangout account before you can post comments.