Posted by Huntndux
[download]
- Play count: 326
Size: 808kb, uploaded 7/6/2008 9:16:08 AM
Genre: Unknown/None Chosen / Playing Style: Unknown/None Chosen
Just learned this one...I really like it, hope you guys do too. Recorded on my Huber Lancaster
---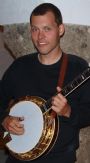 Violanjo Says:
Sunday, July 6, 2008 @10:12:48 AM
Nice piece and playing! I think I will learn it too.

Huntndux Says:
Sunday, July 6, 2008 @10:15:21 AM
Thanks a lot...Ive got some cleaning up to do, but its a fairly new song to me. I heard Josh McMurray do it and I loved it immediately
Bobby

Flying Eagle Says:
Sunday, July 6, 2008 @1:37:48 PM
Are you basing your arrangement off of Allen Shelton's classic recording? Good job. Keep working on it.

NMD Says:
Tuesday, July 8, 2008 @7:25:57 PM
That was outstanding!
Jody Hughes Says:
Wednesday, July 9, 2008 @6:34:27 AM
Nice work!

wrightedward Says:
Thursday, July 17, 2008 @8:32:16 PM
If Banjocoltrane can say its nice work ,how can i say less ,as always Bobby great job ..
You must sign into your myHangout account before you can post comments.