Posted by Gareth Banjoland
[download]
- Play count: 601
Size: 1,683kb, uploaded 7/5/2008 12:36:06 AM
Genre: Unknown/None Chosen / Playing Style: Other
This was also recorded on my laptop about a year ago, in a hotel but in Austria ( generally better acoustics in Austrian hotels rooms I find) it was inspired by Bela and Tony's version off their solo banjo works album. Theres a few little mishaps but I like it anyway....
---
6 comments on "Old Joe Clarke"

zeke_w15 Says:
Saturday, July 5, 2008 @1:18:40 AM
Very fine job I really like that song,I learned it about six mos. ago only bluegrass style,but I still love that OTy sound.Very well done

John Kuhn Says:
Saturday, July 5, 2008 @6:43:45 AM
Hey,
That was too cool!!!..Yeah, that last break instantly made think of Sam Bush's rocked out version on the slide mandolin...LOL
Good job!!
John

Don Borchelt Says:
Saturday, July 5, 2008 @11:59:37 AM
Some really neat things going on in that one. Very nice playing. I'll bet you wold have trouble doing that one standing on your head!

g3zdm Says:
Saturday, July 5, 2008 @12:23:35 PM
Love mot of the variations in there - gives some ideas myself.

Unplugged Says:
Sunday, July 6, 2008 @3:33:11 PM
Delightful! Thanks.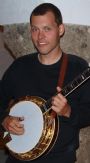 Violanjo Says:
Wednesday, July 9, 2008 @3:00:11 PM
Very sweet. An old tune with a new look!
You must sign into your myHangout account before you can post comments.