Posted by Gareth Banjoland
[download]
- Play count: 346
Size: 1,488kb, uploaded 7/4/2008 1:53:24 AM
Genre: Unknown/None Chosen / Playing Style: Other
Very short version of second part of minor swing, recorded on my laptop in Hotel In Slovenia. Was just mucking around but I quite liked the result, feel free to comment!!
---
5 comments on "Very Minor Swing"

zeke_w15 Says:
Saturday, July 5, 2008 @2:15:10 AM
I like that made me smile..........

Unplugged Says:
Sunday, July 6, 2008 @3:22:24 PM
What fun! Nicely done. Great tempo and clarity. Thanks.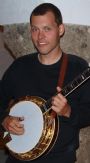 Violanjo Says:
Tuesday, November 11, 2008 @2:16:26 PM
Recorded in the hotel? Yeah thats great! I also want to be in the hotel when you start recording.
Don´t forget to tell me when you are in austria again.

wris Says:
Thursday, April 23, 2009 @7:59:18 AM
great stuff! really enjoyed that

John Kuhn Says:
Sunday, September 12, 2010 @6:47:23 AM
That was.....Different..LOL..Yeah, like it up in the higher octave.Cool improv!
You must sign into your myHangout account before you can post comments.