Posted by Nick Piccininni
[download]
- Play count: 152
Size: 3,175kb, uploaded 4/28/2008 7:07:57 AM
Genre: Unknown/None Chosen / Playing Style: Other
Another original tune...
---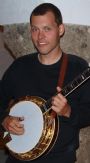 Violanjo Says:
Monday, April 28, 2008 @7:31:02 AM
Awesome tune and pickin man. 5 stars for you.

NMD Says:
Monday, April 28, 2008 @5:49:33 PM
Excellent tune!

kcjc69 Says:
Saturday, May 3, 2008 @4:59:22 AM
Nick,
Sorry, hit the wrong key. Wanted to say that you get better with every tune you post. Keep it up your going places.

MiG-19 Says:
Tuesday, April 14, 2009 @3:33:40 PM
Nick, what a great song! Thanks for sharing it.

John M. Says:
Monday, May 17, 2010 @7:50:00 AM
Very cool piece-- I particularly like the blues notes on the banjo here.
You must sign into your myHangout account before you can post comments.