Posted by Nelson, written by Duke Ellington, J. Tizol
[download]
- Play count: 668
Size: 1,065kb, uploaded 4/26/2008 10:10:08 AM
Genre: Bluegrass / Playing Style: Bluegrass (Scruggs)
My apologies to Duke Ellington (composer)... and Bill Keith... and The Ventures... all of whom have recorded it... well. Thanks to Banjoman for the tab. Geeze!! I need to work on my endings. You are going to have to turn up your volume to hear this one.
---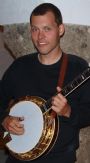 Violanjo Says:
Sunday, April 27, 2008 @3:50:47 PM
Hi Nelson,

Good work, keep on pickin.

Dogface Says:
Sunday, April 27, 2008 @7:03:49 PM
Nicely done, Lad... Like that tune.

Dick Parker Says:
Sunday, November 29, 2009 @2:43:16 PM
Nice job on a challenging tune. I just played it on rhythm guitar with our trad-jazz band last night at an Eagles Club -- never have heard it on a five-string before!
You must sign into your myHangout account before you can post comments.