Posted by Violanjo
[download]
- Play count: 1810
Size: 5,618kb, uploaded 4/23/2008 4:47:09 AM
Genre: Bluegrass / Playing Style: Bluegrass (Scruggs)
This is my version of Devils Dream. It features a lot of variations and some of the highest notes posted on the BHO. I also experiment with some plectrum back up on my 5string. My breaks also feature a lot of tripletsstuff. The hardest part was to create the back up stuff. Picked on my japanese FAKE GIBSON.
---
11 comments on "Devils Dream (Fiddle and Banjo)"

budbennett Says:
Wednesday, April 23, 2008 @7:18:49 AM
FANTASTIC arrangement!! excellent playing too.

Lumpy Says:
Wednesday, April 23, 2008 @11:08:16 AM
Outstanding composition and picking/bowing/strumming. Loved the ending. Thanks.

FiddlerFaddler Says:
Wednesday, April 23, 2008 @5:54:28 PM
Wow, I especially liked the foray into the relative minor key. You are quite the creative arranger. You might have to invest in a tenor banjo if you take a liking to strumming. Thanks for another masterpiece. That deserved more than five starts, but that is all that are available.

Mr Raymond Sutton Says:
Friday, April 25, 2008 @6:43:31 AM
You sure are some player, the arrangement was great as was the playing. The best 5.10 mints I have ever heard. Ray.

Nelson Says:
Monday, May 26, 2008 @11:11:16 PM
Love it.

mainejohn Says:
Monday, June 9, 2008 @5:59:43 AM
By far the best arrangement of DD that I've ever heard!

Don Borchelt Says:
Saturday, July 19, 2008 @7:13:57 PM
Well done. Interesting and thoughtful.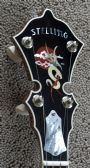 Patrick P. Says:
Sunday, July 20, 2008 @2:14:46 AM
Very nice arrangement.

John Kuhn Says:
Tuesday, July 22, 2008 @9:46:19 PM
Hey Manuel, at first, I thought well, Yeah ?, thats pretty much what I play ( school of Bill K..lol) THEN, the minor improv..That was too cool!!! Enjoyed it !!! Great rendition!!! John

royce Says:
Wednesday, March 18, 2009 @8:49:18 PM
You have TALENT AND A LOT OF IT....

banjobruce Says:
Friday, January 14, 2011 @11:44:56 AM
Wow, that's amazing.
You must sign into your myHangout account before you can post comments.