Posted by townz
[download]
- Play count: 985
Size: 856kb, uploaded 2/24/2008 4:47:14 PM
Genre: Unknown/None Chosen / Playing Style: Bluegrass (Scruggs)
After advice from my teacher(joemac here on hangout) ,not sure I agree but there,here is my first attempt after learning for five months, use it as a bench mark for the future, excuse the small mistakes with timing etc,hope too get up to speed eventually.
---
10 comments on "cripple creek(first attempt)"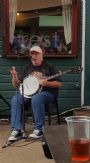 joemac Says:
Sunday, February 24, 2008 @5:28:43 PM
fantastic mick!! well done.im proud of ya man.welcome to the world of the banjo..........you are now a paid up member, keep pickin mate, its comming lovely...joe

TONUP Says:
Monday, February 25, 2008 @12:30:03 PM
Sounds great. You can tell that your really at home with a stringed instrument. I [particularly liked the bit where you do a descending scale of some type. Sorry I don't know the techy terms.
Keep posting your tunes. your doing great!!
Thanks
TONUP

Rick Woods Says:
Monday, February 25, 2008 @1:14:12 PM
Mick,
Great job. That teacher must be doing you right. Keep up the good work.

townz Says:
Monday, February 25, 2008 @3:19:20 PM
appreciate the support friends!!it really helps

hammeron Says:
Monday, March 24, 2008 @3:05:34 PM
Well done Mick! The more you learn, the more you can incorporate into the tunes. Thanks for bringing a smile. Now that you've started, keep goin'!

Steve

olehippy13 Says:
Saturday, June 21, 2008 @8:33:40 PM
Hey dude....great job.....I think you did a great job...
oh and ah...
keep smilin,
olehippy13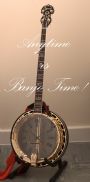 ragitty Says:
Thursday, July 17, 2008 @9:37:52 AM
Mick that was brilliant, enjoyed it very much and has given me another angle on the song, great work keep it up. regards Lee

townz Says:
Thursday, July 17, 2008 @9:42:29 AM
Glad it was of help got a new version coming soon! keep on picking

muntjac Says:
Thursday, July 17, 2008 @12:07:18 PM
Brilliant I hope to be able to get to this stage one day...............Ian

martinplayer Says:
Monday, July 21, 2008 @4:14:27 AM
What a great effort for a first time. Very well done.
Bob
You must sign into your myHangout account before you can post comments.