Posted by RedZinger
[download]
- Play count: 622
Size: 1,694kb, uploaded 2/2/2008 4:31:43 PM
Genre: Unknown/None Chosen / Playing Style: Clawhammer and Old-Time
I play this in eAEAC# on my fretless Ramsey. I think my mic volume was too high (sorry). Anyway, I arranged it based on Tommy Jarrell's fiddle version that he plays in D-ish. He says he learned it from an "old colored fella" who played it on guitar in A. Mike Seeger plays a guitar version in A on his Early Southern Guitar Sounds. James Leva has a version on his Memory Theatre CD. I put a tab of the basic tune online that you can link to through my BHO page.
---
5 comments on "Raleigh & Spencer (aka Rylan Spencer)"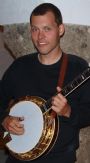 Violanjo Says:
Saturday, February 2, 2008 @4:34:37 PM
Nice playing and singing. Your intonation on your fretless banjo is very good. That must be hard work!

Loo P. Says:
Sunday, February 3, 2008 @3:23:19 PM
Nicely done Rob!!!

docslocum Says:
Monday, February 25, 2008 @4:39:51 PM
howdy, great song, learnin clawhammer banjo for a little more than a year.
Is there a tab for this song.

KE Says:
Monday, July 21, 2008 @6:43:29 PM
Love it! Thanks for putting this one up.

trigbrown Says:
Monday, June 7, 2010 @10:50:50 AM
love this, thanks
You must sign into your myHangout account before you can post comments.