Posted by Kenneth Logsdon
[download]
- Play count: 2608
Size: 2,695kb, uploaded 1/20/2008 11:21:22 AM
Genre: Bluegrass / Playing Style: Bluegrass (Scruggs)
Nother one from the porch, during a picking, features Judy singing..
---
6 comments on "Beneath the Willow"

grandpa_dave Says:
Tuesday, August 12, 2008 @6:53:35 PM
Ken -
Nice playing and vocal. My great grandfather is listed in the book entitled "Pioneers of Kentucky". I haven't even been to your State yet, but I'll make it. Some of my kin are buried there. Best wishes.

tfaux Says:
Wednesday, January 21, 2009 @4:29:09 AM
Really nice singing--sounds a lot like Maybelle. Fine playing too Ken. AND you live in a beautiful area. Man, you've got it all! best regards, Tom

bhniko Says:
Friday, July 10, 2009 @2:50:26 PM
Thoroughly enjoyed the picking and singing. Could picture the Willow Tree.

Nancy Says:
Saturday, January 2, 2010 @6:47:29 PM
Thank you Judy. I love your voice, and enjoy your music so much.

BPDye Says:
Thursday, June 7, 2012 @10:03:44 PM
Kenneth: I listened to this tonight and was blown away how good that recording was. The music was simple, but great. I am sorry that Judy no longer wants to sing. She sounded outstanding on this. To me this is true bluegrass. Great job!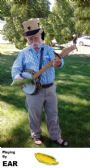 mike gregory Says:
Sunday, August 30, 2015 @5:36:53 AM
Well done!
You must sign into your myHangout account before you can post comments.