Posted by RedZinger
[download]
- Play count: 994
Size: 2,626kb, uploaded 1/9/2008 7:53:59 PM
Genre: Unknown/None Chosen / Playing Style: Clawhammer and Old-Time
This is my first fretless tune. I arranged this based on Tommy Jarrel's fiddle version on Sail Away Ladies. It's in 3/4 time, but it doesn't really feel like a waltz. I play it on my Ramsey fretless Student. Tuning is gDGBD. It's aka Jack of Diamonds or Rye Whiskey. You can find the tab here: http://enyepa.110mb.com/
---
5 comments on "Drunken Hiccups (fretless)"

NWBanjo Says:
Wednesday, January 9, 2008 @8:09:00 PM
You got it!

Aonach Says:
Tuesday, January 29, 2008 @12:33:55 PM
I'll second that!-sounds great on my fretless round peak style too-Good job!

Don Borchelt Says:
Wednesday, June 4, 2008 @3:59:41 PM
My compliments and admiration. A couple of months ago, I listened to Jarrell's recording and tried working something up, and gave up. You have hit on it square and true. I am jealous. Just plain jealous.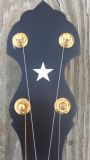 RWJonesy Says:
Sunday, August 3, 2008 @3:35:42 PM
Fantastic work on this tune ! Thanks for blessing me with the post !

blooh Says:
Thursday, January 29, 2009 @11:57:56 PM
deserves 10 stars.
You must sign into your myHangout account before you can post comments.