Posted by Kenneth Logsdon
[download]
- Play count: 2427
Size: 3,198kb, uploaded 12/23/2007 2:03:04 PM
Genre: Bluegrass / Playing Style: Bluegrass (Scruggs)
---
9 comments on "Two Dollar Bill"

dpete210 Says:
Wednesday, December 26, 2007 @1:35:16 PM
Nice job, Ken! Good song! I have a Gold Star 100 and it is a nice banjo. Dave Peterson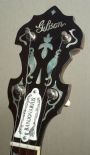 rb4player Says:
Saturday, December 29, 2007 @10:17:44 AM
Sounds similar to some of our regular Friday nights "in the basement", except your vocals and timing are both stronger.

fxstb Says:
Sunday, January 20, 2008 @1:20:26 PM
Just the way bluegrass should sound, straight to the point uncluttered, pure!

Rick Woods Says:
Sunday, January 20, 2008 @2:06:29 PM
My foot is still tapping. Fine bluegrass!!!!!!

Nancy Says:
Sunday, January 20, 2008 @9:43:26 PM
Good job. I like all of your musice!!

grandpa_dave Says:
Tuesday, August 12, 2008 @6:45:42 PM
Good tempo. A good bluegrass number. Well done.

BPDye Says:
Sunday, May 10, 2009 @10:10:41 PM
Still one of my favorites on the jukebox. Great playing/singing.
Barry

royce Says:
Sunday, August 30, 2009 @6:41:24 PM
That's real bluegrass. The stuff that got me interested in picking. Great job.

Bk2olKY Says:
Saturday, December 30, 2017 @6:34:24 AM
What banjo are you playing in this one? Sounds really good.
You must sign into your myHangout account before you can post comments.