Posted by rb4player
[download]
- Play count: 333
Size: 3,647kb, uploaded 12/20/2007 3:00:53 PM
Genre: Unknown/None Chosen / Playing Style: Unknown/None Chosen
Clips of 3 prewar banjos. Which one is the two-piece flange? (hint: it's a mahogany style 4 AT)
---
7 comments on "Comparison of 3 Prewar Gibson Banjos"

banjotef Says:
Thursday, December 20, 2007 @9:49:22 PM
Jim:
I liked the third sample best!!

Kenneth Logsdon Says:
Friday, December 28, 2007 @5:53:17 PM
No question about it...NO 2! The sound and depth came through very quickly especially up the neck and the ending!! I'm partial to the Mahogany sound!! None are dogs, but I would love to set up no.3 and put on a fivestar!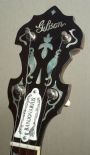 rb4player Says:
Friday, December 28, 2007 @10:43:15 PM
Now that's funny! I don't care who you are.

plunka5 Says:
Sunday, December 30, 2007 @9:25:43 AM
I liked No. 3 the best...and that picker has some potential!>LOL, j/k! Thanks for posting the clips, all were great, just that in my ears the style 11 had the "extra" brush...that also made me think you liked the tone of that one the best? Subconsciously........???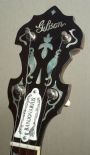 rb4player Says:
Sunday, December 30, 2007 @12:10:35 PM
I do all my best thinking subconciously!

Forrest Says:
Sunday, March 30, 2008 @11:25:24 AM
Jim, I'd say that #1 is your 2pc flange Style 4 archtop. I liked the sound of all three banjos, but for my tastes, #2 sounded the best. Nice comparison.

Pickin furry paws Says:
Saturday, October 29, 2011 @4:16:33 PM
Interesting, very interesting. I am glad I gave a listen. I think before I make any judgment, it would be helpful to know the head tensions of these banjos. I know that archies can sound quite "flat-heady" with a looser head.
You must sign into your myHangout account before you can post comments.