Posted by RedZinger
[download]
- Play count: 1986
Size: 2,370kb, uploaded 12/2/2007 6:24:18 PM
Genre: Unknown/None Chosen / Playing Style: Clawhammer and Old-Time
This is one of my favorite songs in sawmill tuning. I'm playing it on my new Wildwood Minstrel that I like a lot, but I'm still getting used to it. I learned this back in the early 1980's from a Bob Carlin tab in BNL. After all these years I hope I've put something of myself in there.
---
9 comments on "Falls of Richmond"

Clawdan Says:
Monday, December 3, 2007 @1:46:43 PM
Rhythm/tempo seems steady to me. We all strive to be better. Perhaps a bit more flow could add to your feeling, but I don't know as that I would mess with success.
Dan

Loo P. Says:
Monday, December 10, 2007 @7:52:53 AM

Loo P. Says:
Sunday, January 6, 2008 @4:55:55 PM
what happened to my post???? :)
Nicely done!! I like the way you play this tune.

Supertone Says:
Saturday, January 26, 2008 @1:42:08 PM
Sounds good!

Cathy Moore Says:
Sunday, July 6, 2008 @1:08:48 PM
I love the slow tempo & the feeling you've put into this.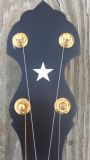 RWJonesy Says:
Tuesday, July 29, 2008 @7:30:54 PM
Like the way you build up and lay into them strings.....very nice !

Bisbonian Says:
Tuesday, March 9, 2010 @3:15:58 PM
I really like it. Has to be one of the best versions I have heard...I like it even better than the Bob Carlin version...it's got you in there.

banjoamateur Says:
Sunday, May 31, 2015 @11:26:56 AM
I want the tabs for this version!

banjoamateur Says:
Wednesday, June 3, 2015 @5:12:59 PM
could you record a video of this?
You must sign into your myHangout account before you can post comments.