Posted by beanseo
[download]
- Play count: 439
Size: 2,269kb, uploaded 11/23/2007 7:34:28 PM
Genre: Unknown/None Chosen / Playing Style: Clawhammer and Old-Time
Also from our recording. Take notice of the banjo player's panic at the end, when he (I) tries to segue from a strictly rhythmic backup to a version of Cluck Ol' Hen, then blows it entirely.
---

judylvd Says:
Thursday, December 6, 2007 @7:17:51 PM
Nice job! It's good to hear how others do it.

vintagewells Says:
Saturday, March 29, 2008 @3:04:37 PM
I like this one. I've been working on it, but just haven't gotten it down. Now I have a better idea of what I need to do.... Thanks Lorna

Lorix Says:
Saturday, November 29, 2008 @5:14:03 PM
Really Nice singing. The banjo should be louder But I really like it anyway :-)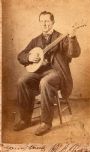 beanseo Says:
Monday, December 1, 2008 @2:45:10 PM
Only on a banjo list will I ever see the phrase, "The banjo should be louder." :)
Thanks!
You must sign into your myHangout account before you can post comments.