Posted by Banjophobic
[download]
- Play count: 2202
Size: 2,328kb, uploaded 9/20/2007 9:31:23 PM
Genre: Unknown/None Chosen / Playing Style: Unknown/None Chosen
more messing with this new computer mic. Thought Id try this one in double C modal tuning. With a little rock twist, of course
---
10 comments on "Aint Gonna Work Tommorrow"

ldgrmnmc Says:
Thursday, September 20, 2007 @10:49:22 PM
Great stuff!!!!!!

ldgrmnmc Says:
Thursday, September 20, 2007 @10:51:23 PM
and what exactly IS double C? From the guy who barely passed music theory class..........

Banjophobic Says:
Thursday, September 20, 2007 @11:16:31 PM
Ldrmnmc
Thanks for the listen!. Double C is just C-G-C_D with altered 5th. Its a common OT banjo tuning and BG'ers have messed with it a good while too. Its one of my favorite tunings too-very growly and dark-:)

jen h Says:
Friday, September 21, 2007 @6:18:03 AM
very haunting sound-nice!

Carlaway Says:
Friday, September 21, 2007 @6:47:20 PM
Beautiful playing and arrangement. I loved it.

TOMCAT Says:
Thursday, October 4, 2007 @3:47:09 PM
Hot stuff man!

deleuran Says:
Wednesday, April 16, 2008 @1:10:06 PM
Great pickin' I love it.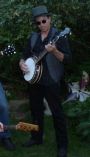 Swiss Says:
Friday, March 25, 2011 @12:06:30 PM
Well I don't know what really to say about that.

There's a new Genre called Banjphobic and its my absolute favourite.......

Can't stop plaing it.....Bloody amazing.......



rockb59 Says:
Thursday, September 22, 2011 @2:20:35 PM
John
I really like the Dble C stuff!! You are a fine player and I appriciate your comments on the hangout!!
Always watching and ( Listening ) for what you have to say and play!!
Rock from Kalamazoo

pickabanjo Says:
Thursday, July 19, 2012 @12:25:28 PM
Great twist on this tune ,I dig a good re-mix on tunes in modal...Nice touch
You must sign into your myHangout account before you can post comments.