Posted by tubaphone1927
[download]
- Play count: 1992
Size: 3,518kb, uploaded 9/9/2007 2:03:47 AM
Genre: Unknown/None Chosen / Playing Style: Clawhammer and Old-Time
A tune I learned a couple years back while at Augusta. I like it a lot. It's pretty much a version of Cumberland Gap out of D (though I'm playing it in C here).
---


Don Borchelt Says:
Tuesday, December 25, 2007 @12:48:53 PM
This is just terrific picking. I especially like the dronelike emphasis on that low D. Banjo has a nice deep tone.

festusbug Says:
Sunday, January 20, 2008 @8:56:42 PM
Great playing and I like the variations. A lot!!!

Don Borchelt Says:
Monday, January 28, 2008 @12:36:23 AM
Listened to it again. Still sounds great, never gets old.

slabounty Says:
Saturday, February 9, 2008 @3:23:02 PM
Ben, Very, very nice. Like Don, I really like the droning on the low string.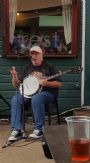 joemac Says:
Thursday, May 27, 2010 @10:57:16 AM
Thats some of the finest playing here on hangout and a long ways beyond i guess, thank you so much its beautiful.

robmac07 Says:
Thursday, May 27, 2010 @7:51:39 PM
Great!
You must sign into your myHangout account before you can post comments.