Posted by Josh Turknett
[download]
- Play count: 1352
Size: 1,795kb, uploaded 8/16/2007 10:57:12 PM
Genre: Unknown/None Chosen / Playing Style: Clawhammer and Old-Time
Learned this version off the Taj Mahal album "de Old Folks at Home"...bridge and all. Banjo is tuned to open C. My brother Rob is on guitar.
---
5 comments on "Colored Aristocracy"

marsan29 Says:
Thursday, September 13, 2007 @12:00:59 PM
Giant Steps was a great album. I learned a lot from it although Scruggs/Melodic style was more my thing. I don't have the album anymore, but your playing of this took me right back. Nice Job.

mainejohn Says:
Thursday, September 13, 2007 @7:09:14 PM
Very nice rendition. Thanks for sharing!

darryl k. Says:
Saturday, October 13, 2007 @9:13:12 PM
very nice job ! Has a real bounch....think I'll hit the replay button.
darryl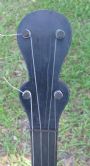 ToneHz Says:
Monday, September 23, 2013 @7:07:15 PM
Very good tone! I would prefer the melody line not to jump octaves so much. I first learned this on tenor banjo in the 70's. Now your recording has encouraged me to learn it on clawhammer!

mlmlmn Says:
Saturday, June 17, 2017 @8:35:48 PM
I have to learn this in D, part of a medley, I like it this way better this way though.
You must sign into your myHangout account before you can post comments.