Posted by Josh Turknett
[download]
- Play count: 1475
Size: 2,526kb, uploaded 8/16/2007 10:53:05 PM
Genre: Unknown/None Chosen / Playing Style: Clawhammer and Old-Time
When I first heard this tune off Paul Brown's album "Red Clay Country" (highly recommended!), I couldn't rest until I learned it. The banjo is fingerpicked (sans picks) in the tuninig d#A#D#A#C. My brother Rob is on guitar and harmony vocals.
---

marsan29 Says:
Thursday, September 13, 2007 @11:57:22 AM
What a great.....well.....lazy feel to this song. The tuning is just so back home and inviting and you vocal is matched just right. Loved it.

Mark

chip arnold Says:
Sunday, September 16, 2007 @11:38:51 PM
Just great. I love the easy, lazy (!) rolling cadence you're getting here. Very well played.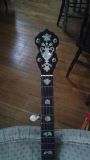 jasper Says:
Tuesday, October 23, 2007 @5:48:16 PM
Awesome, i have that CD, now i gotta learn it too, great job, keep em comin...

Debbielee Says:
Tuesday, October 30, 2007 @7:43:52 PM
I really liked your rendition of "Lazy John". Singing and banjo were great!

Henke Says:
Friday, November 9, 2007 @8:24:31 AM
This is beautifull.

festusbug Says:
Monday, December 17, 2007 @7:46:04 AM
My goodness - I've got a gal lives by the road, her knees are buckled and legs are bowed! They don't write em like that anymore. GREAT picking and singing and particularly I like the finishing lick with the lazy triplets.

DelusionsOBanjer Says:
Monday, November 24, 2008 @4:40:14 AM
Tremendous! Needs to be on your own CD!
You must sign into your myHangout account before you can post comments.