Posted by tyler324
[download]
- Play count: 1248
Size: 3,130kb, uploaded 7/12/2007 10:13:34 PM
Genre: Unknown/None Chosen / Playing Style: Bluegrass (Scruggs)
Tyler Thompson, Lead Guitar, Banjo; Scott Freeman, Fiddle; Greg Thompson, Bass; Randy Greer, Mandolin; Steve Lewis, Rhythm Guitar Proudly recorded at Castle Ford Studios!!!!
---

Westvon Says:
Saturday, July 21, 2007 @3:02:09 PM
Tyler, Very good guitar and banjo playing my friend. I have to say that I am Impressed. Where in TN do you live? My mom grew up in the Smokies not far from Townsend, TN. I used to spend my summers in TN.

tyler324 Says:
Saturday, July 21, 2007 @3:46:47 PM
Thanks! I'm in Mtn. City, up in the northeast corner close to Virginia and NC.

Unplugged Says:
Friday, October 19, 2007 @12:28:58 PM
Really nice sound. Great tune.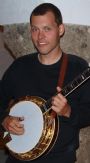 Violanjo Says:
Monday, January 7, 2008 @2:05:00 PM
Great work and a good sound!

Banjophobic Says:
Monday, March 10, 2008 @12:20:10 AM
Good Job Tyler!

schwimbo Says:
Tuesday, December 23, 2008 @5:19:01 AM
Very good guitar playing (and banjo of course)! Keep up the good work.
Janna Says:
Monday, September 3, 2012 @5:03:17 AM
The sound is great! I like it very much!
You must sign into your myHangout account before you can post comments.