Posted by Nedski
[download]
- Play count: 2493
Size: 3,560kb, uploaded 6/29/2007 10:37:03 AM
Genre: Unknown/None Chosen / Playing Style: Bluegrass (Scruggs)
From the new CD
---
7 comments on "And Take Your Brother With You"

rtyrie Says:
Thursday, August 9, 2007 @11:44:08 AM
Great song Ned. I am going to have to hear the story sometime if we meet at IBMA or elsewhere.
Ron

marsan29 Says:
Tuesday, September 18, 2007 @5:44:09 AM
Great syncopated chops on this one. I really enjoy your playing.
Mark

Earls 5 Says:
Wednesday, July 8, 2009 @6:00:08 AM
Nice piece Ned ! I can tell you are having fun with it too - Ron C.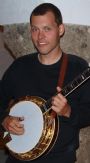 Violanjo Says:
Friday, October 16, 2009 @1:35:25 AM
Hi Ned,

Strong and solid pickin just as I like it and what a great fiddle! The Banjocamp was great. Thank you so much!.........Manuel



Randy Waller Says:
Wednesday, August 22, 2012 @3:49:51 PM
Really like this song. This is one I'd like to learn.

Randy Waller Says:
Monday, April 21, 2014 @1:44:31 PM
Call up BanjoBenClark.com and have him play your song. Teach him please.

Nedski Says:
Monday, April 21, 2014 @1:52:25 PM
Coolairaz - This was tabbed out in Banjo Newsletter in the September 2008 issue.
You must sign into your myHangout account before you can post comments.