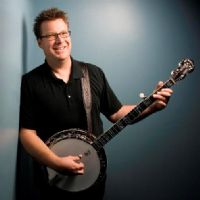 Teaches Lessons: Online, In Person
Styles: Bluegrass (Scruggs) , Clawhammer and Old-Time, Other
Levels: Beginner, Intermediate, Advanced
Teacher Since: 1981
Pricing: $60/hr or $100/month (4-30 minute lessons)
Listing Created: 11/17/2011
Listing Updated: 2/22/2016
More About Me
For more than 30 years, banjo maestro Ned Luberecki has been known for his dazzling technique, originality, broad sense of humor and affinity for teaching. Inspired to take up the banjo when he heard Steve Martin's playing on the humorist's 70s-era comedy albums, he quickly became a sought-after picker, first in his native Baltimore area, and eventually in Nashville, where he has made his home since
2003.

Ned is the banjo player for The Becky Buller Band and a partner in the popular Nedski & Mojo duo. Ned spent over a decade with Chris Jones & The Night Drivers and is a favored guest on stage and in the studio with artists ranging from Jim Lauderdale to Tony Trischka to Ray Stevens. A teacher since the early 1980s, Ned maintains a busy schedule of private lessons, along with workshops and camps in the U.S., Canada and Europe. Ned is the author of Alfred Publications 3 part Complete 5-String Banjo Method and has pioneered on-air instruction with his popular More Banjo Sunday and The Sunday Banjo Lesson on SiriusXM's Bluegrass Junction, where he also hosts the regular newgrass show, Derailed.
Comments
I attended Nash Camp with Ned as one of the instructors this fall. He is an amazing banjo picker and a pleasure to be around. His teaching style was serious, yet very fun and interesting. I brought back some skills that I did not now I even had. One could not go wrong investing in Ned as an instructor. - dgill
Donnie - Thank you! Very nice of you to say!
Ned - Nedski
I was one of Ned's students for a couple years while he lived in Arkansas and consider him a friend. One of the great things about Ned (besides his wit and humor...and his hair) is his in depth knowledge of so many different styles. Whether you are interested in Scruggs, Crowe, melodic, backup, clawhammer, etc. or even want to learn rock, theme songs or classical, Ned can help you. He is on my list of "favorite players" and is truly one of the finest and most talented banjo pickers around. - rferg
Do you have openings?
I'm in Clarksville
How far away are you

Please email back
Rockyj1960@gmail.com - rock_on_line_dotcom
You must sign into your myHangout account before you can post comments.