Posted by chip arnold
[download]
- Play count: 2026
Size: 2,041kb, uploaded 6/24/2007 10:49:31 PM
Genre: Unknown/None Chosen / Playing Style: Clawhammer and Old-Time
Haley is my grand daughter and I made this waltz for her. Double D tuning in 2-finger tyle.
---

twelvefret Says:
Monday, June 25, 2007 @6:28:27 AM
That'll do you grand daughter proud sir. Thank you for posting

garfield55 Says:
Friday, August 31, 2007 @10:51:19 PM
That's a beautiful and well-played song for a very special member of your family. I really enjoyed it.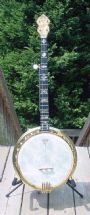 terry m Says:
Friday, October 5, 2007 @11:16:32 AM
Hi Chip I'm realy enjoying the several tunes that you and your wife have posted, great playing by both of you .Thanks.

Ron Farr Says:
Wednesday, November 14, 2007 @8:05:02 PM
Sometimes I am blessed with a thing of great beauty - When I feel touched by an angle - This is one of these times -
Thank You

panthersquall Says:
Saturday, April 18, 2009 @6:00:08 PM
What a sweet and lovely waltz. Really quite beautiful! Thanks so much for posting!
You must sign into your myHangout account before you can post comments.