Posted by WayneConrad, written by Bradbury/Warner
[download]
- Play count: 182
Size: 324kb, uploaded 5/31/2015 12:37:48 PM
Genre: Traditional / Playing Style: Clawhammer and Old-Time
arrangement by Wayne Conrad. Tab: http://www.banjohangout.org/tab/browse.asp?m=detail&v=21370
---
4 comments on "Jesus Loves Me"

JanetB Says:
Sunday, May 31, 2015 @5:24:33 PM
Fun to hear. The words sing right along with you.

WayneConrad Says:
Sunday, May 31, 2015 @5:46:10 PM
Your words are wonderfully encouraging. Thanks!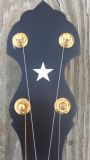 RWJonesy Says:
Monday, June 1, 2015 @3:58:15 AM
Your version sounds close to how I play it. I think it sounds great. I play this one for my children all the time.
You must sign into your myHangout account before you can post comments.