Posted by Dan Pennington
[download]
- Play count: 503
Size: 792kb, uploaded 5/24/2007 5:46:06 PM
Genre: Unknown/None Chosen / Playing Style: Clawhammer and Old-Time
My version of Winder Slide played on my own made A scale 5 string, This should give you an idea of how my block rims sound. The 11 inch rim on this banjo is of Canary Wood with a Paduk cap, just like the rim in the ad.. No tone metal ring. It has 24 brackets and a maple neck with a Fiberskyn head.
---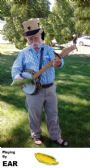 mike gregory Says:
Wednesday, May 30, 2007 @11:50:50 PM
Reall BELL tones on the high notes.
Goes ta show ya, metal tone rings are not the ONLY way to make a great sounding banjo.

gmo Says:
Saturday, June 9, 2007 @12:29:56 AM
Really beautiful !! I would like to hear more of that . I'll bet a resonator bluegrass banjo based on that rim would be equally good . Might just have to look into that ! Good job !
George Owen

jimh269b Says:
Tuesday, December 23, 2008 @6:32:06 PM
outstanding job
You must sign into your myHangout account before you can post comments.