Posted by royce
[download]
- Play count: 3455
Size: 1,935kb, uploaded 11/1/2006 4:16:53 PM
Genre: Unknown/None Chosen / Playing Style: Unknown/None Chosen
Played all the instruments. This was a banjo I sold a while back...(48 TB100 conversion)
---
10 comments on "Cotten Eyed Joe"

Unplugged Says:
Saturday, November 4, 2006 @10:13:38 AM
A real modern hoe-down upbeat sound. Here I am just casually listening to the jukebox and along comes this one. REALLY caught my ear. Thanks.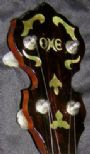 wss Says:
Tuesday, December 12, 2006 @9:30:29 PM
Thanks, Royce!

schwimbo Says:
Thursday, January 25, 2007 @10:13:31 AM
Nice hard driving playing. Your style kind of reminds me of a cross between Butch Robins and Chris Warner (not that you listened to them - I don't know your influences) but this tune just kind of reminds me of them a bit.

Bubbatone Says:
Monday, January 29, 2007 @10:13:15 AM
I wouldn't have sold that banjo.

Don Borchelt Says:
Friday, March 23, 2007 @7:09:07 PM
This is the real Cotton Eyed Joe, all right. Wonderful picking, a great bluegrass hoedown.

afchap Says:
Thursday, December 20, 2007 @8:47:10 AM
I sold that banjo to Royce - CHEAP! I'm still kicking myself! Nice job, Royce!

afchap Says:
Sunday, October 19, 2008 @7:10:47 AM
Great sound, Royce. This banjo has now come back home to me. Now, I just need to learn to play it as well as you..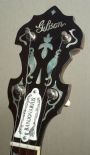 rb4player Says:
Sunday, November 23, 2008 @8:47:18 AM
Too many banjo's not getting enough attention, glad to have afchap enjoying this one again! (Royce seems to get "the sound" from most everything he plays).

afchap Says:
Sunday, May 24, 2009 @5:21:05 PM
Well, unfortunately, I have to sell it. If interested, let me know...

pickNgrin Says:
Tuesday, August 11, 2009 @5:02:17 AM
Dang-gum! That is top notch picking!!!
You must sign into your myHangout account before you can post comments.