Posted by Dan Knowles
- Play count: 1411
Size: 9,413kb, uploaded 3/14/2013 7:12:07 PM
Genre: Fiddle/Celtic/Irish / Playing Style: Clawhammer and Old-Time
This recording is from our recent concert at Lee Academy for the Arts. It will be one of the tunes in our upcoming live CD. Saint Ann's Reel features the beautiful mandolin work of Josh Coffey and the equally gorgeous fiddle work by Danny Conger, I do sneak a bit of clawhammer banjo in too . The medley is completed with a grand old time fiddle off between Danny and Josh.
---
7 comments on "Saint Ann's Reel & Angelina the Baker"

banjoy Says:
Thursday, March 14, 2013 @10:30:19 PM
Wow this is most excellent. Two great tunes together and done beautifully. Thanks for posting this!
picKen Says:
Friday, March 15, 2013 @2:46:23 AM
Beautiful!

rgoad Says:
Friday, March 15, 2013 @3:44:24 AM
Very nice!

Torben Pedersen Says:
Friday, March 15, 2013 @5:00:05 AM
Very beautiful played

BNJOMAKR Says:
Friday, March 15, 2013 @5:00:01 PM
Makes me feel at peace. Thanks!

dbrooks Says:
Saturday, March 16, 2013 @7:55:38 AM
Love the expressive variations of the melody in both tunes. I wish I had that kind of imagination.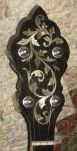 Pine Cone Says:
Wednesday, March 27, 2013 @6:11:52 PM
Great tunes! Love the overall sound and the new Rickard Copper Spun Tubaphone sounds great. Can't wait to get the CD when it comes out.
You must sign into your myHangout account before you can post comments.