Posted by Laurence Diehl, written by George Shearing
[download]
- Play count: 1535
Size: 7,529kb, uploaded 5/30/2012 11:22:56 AM
Genre: Jazz / Playing Style: Bluegrass (Scruggs)
---
7 comments on "Lullaby in Birdland"

rickhayes Says:
Wednesday, May 30, 2012 @12:26:46 PM
That was outstanding Laurence. Smoooooth all the way. And that's coming from someone who is not really into Jazz.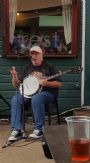 joemac Says:
Wednesday, May 30, 2012 @12:26:50 PM
Just magnificent Laurence!! OH i am in awe mate, i have a really basic version of this, but yours...astounding, well done.

John Kuhn Says:
Wednesday, May 30, 2012 @12:51:38 PM
Yeah Big L ,you really colored this up well! Great speed and ya really made the tracks work for ya rather than just "playing" to them. Enjoyed mixin this and messin with different pans!

rickhayes Says:
Wednesday, May 30, 2012 @6:12:20 PM
And kudos to you too John for the technical work. Outstanding job by both of you.

Don Lewers Says:
Wednesday, May 30, 2012 @9:22:37 PM
Jazz banjo, as free as a bird on the wing, beaut clean pickin' ''Laurence''.

schwimbo Says:
Thursday, May 31, 2012 @11:07:23 PM
Nice tasty soloing Laurence. Good job!

Andyincov Says:
Tuesday, September 11, 2012 @4:00:47 AM
banjo. drums. Jazz? What is this brave new world?hahahLOL. Just kidding - That was amazing. Very cool.
You must sign into your myHangout account before you can post comments.