Posted by Mark Johnson
[download]
- Play count: 616
Size: 3,802kb, uploaded 3/29/2012 8:21:02 AM
Genre: Traditional / Playing Style: Clawhammer and Old-Time
Allowing myself to get all jazzy and crazy with June Apple, taking it wherever I want to go. Yes, it's over the top. Yes, it's sloppy. Hopefully it's also sort of fun and different and enjoyable in some fashion.
---
3 comments on "Apples Ad Nauseum"

John D Says:
Thursday, March 29, 2012 @10:07:12 AM
So many cool variations. Really entertaining!

rickhayes Says:
Thursday, March 29, 2012 @11:52:10 AM
Works for me, just fine. Creative.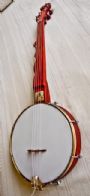 sport Says:
Saturday, September 8, 2012 @8:02:40 PM
Apples a gusto!
You must sign into your myHangout account before you can post comments.